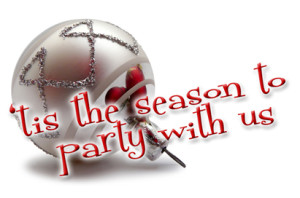 Holiday Music Poll 2018
Every year here at MITM, we ask for you tell us your favorite Holiday Songs. It's not difficult to think of all the great Holiday classics that we all grew up with and enjoy year after year, because most of the traditional pop Holiday songs originated from the Great American Songbook artists. Combine that with all the great Contemporary songs and it's always a great Holiday season here.
It's time for our 12th annual Holiday Music Poll Top 100 Countdown! You voted, we counted and the results are in!
| | | |
| --- | --- | --- |
| Rank | Title | Artist |
| 1 | White Christmas | Bing Crosby |
| 2 | The Christmas Song | Nat King Cole |
| 3 | The Christmas Waltz | Frank Sinatra |
| 4 | Baby, It's Cold Outside | Dean Martin |
| 5 | Christmas in Love | Renee Olstead |
| 6 | It's the Most Wonderful Time of the Year | Andy Williams |
| 7 | Little Drummer Boy/Peace On Earth | David Bowie & Bing Crosby |
| 8 | Have Yourself a Merry Little Christmas | Judy Garland |
| 9 | Santa Baby | Eartha Kitt |
| 10 | Merry Christmas Darling | Carpenters |
| 11 | Cool Yule | Louis Armstrong |
| 12 | Rudolph the Red Nosed Reindeer | Gene Autry |
| 13 | Frosty the Snowman | Jimmy Durante |
| 14 | Let It Snow! | Dean Martin |
| 15 | Grown Up Christmas List | Michael Buble |
| 16 | Holly Jolly Christmas | Burl Ives |
| 17 | I'll be Home for Christmas | Michael Buble |
| 18 | We Need a Little Christmas | Angela Lansbury |
| 19 | We Wish You the Merriest | Frank Sinatra/Bing Crosby |
| 20 | I've Got My Love to Keep Me Warm | Dean Martin |
| 21 | What Are You Doing New Year's Eve | Diana Krall |
| 22 | I Want a Hippopotamus for Christmas | Gayla Peavey |
| 23 | I Wouldn't Trade Christmas | Frank Sinatra |
| 24 | Marshmallow World | Dean Martin (w/Frank) |
| 25 | Silver Bells | Harry Connick Jr. |
| 26 | The Christmas Song | Michael Buble/Celine Dion |
| 27 | This Time of Year | Steve Tyrell |
| 28 | Blue Christmas | Renee Olstead |
| 29 | Silent Night | Frank Sinatra |
| 30 | The Man With The Bag | Kay Starr |
| 31 | Peace on Earth/Silent Night | Dean Martin |
| 32 | Jingle Bells | Diana Krall |
| 33 | Mele Kalikimaka | Bing Crosby |
| 34 | Let It Snow! | Michael Buble |
| 35 | Boogie Woogie Santa Claus | Brian Setzer |
| 36 | Christmas Time is Here | Vince Guaraldi |
| 37 | Christmas Time is Here | Ray Charles |
| 38 | The Man With The Bag | Jane Monheit |
| 39 | Merry Christmas Baby | Steve Tyrell |
| 40 | No Place Like Home for the Holidays | Perry Como |
| 41 | Santa Claus Got Stuck in My Chimney | Ella Fitzgerald |
| 42 | I Like a Sleigh Ride | Peggy Lee |
| 43 | Santa Claus is Coming to Town | Tony Bennett |
| 44 | Zat You, Santa Claus | Louis Armstrong |
| 45 | Cold December Night | Michael Buble |
| 46 | You're A Mean One, Mr. Grinch | Thurl Ravenscroft |
| 47 | I'll Be Home for Christmas | Frank Sinatra |
| 48 | Carol of the Bells | David Foster |
| 49 | Baby, It's Cold Outside | Seth MacFarlane & Sara Bareilles |
| 50 | My Favorite Things | Tony Bennett |
| 51 | Christmas Blues | Dean Martin |
| 52 | What Ever Happened to Christmas | Frank Sinatra & Family |
| 53 | Jingle Bells | Frank Sinatra |
| 54 | Baby, It's Cold Outside | Steve Tyrell/Jane Monheit |
| 55 | What Are You Doing New Year's Eve | Steve Tyrell |
| 56 | Christmas Blues | Steve Tyrell |
| 57 | Christmas Time is Here | Diana Krall |
| 58 | The 12 Days of Christmas | Frank Sinatra and Family |
| 59 | Snow | Rosemary Clooney |
| 60 | This Time of Year | Ray Charles |
| 61 | Merry Christmas Baby | Lou Rawls |
| 62 | Winter Wonderland | Tony Bennett and Lady Gaga |
| 63 | It's Beginning to Look a Lot Like Christmas | Bing Crosby |
| 64 | Rudolph the Red Nosed Reindeer | Dean Martin |
| 65 | Christmas Auld Lang Syne | Bobby Darin |
| 66 | White Christmas | Rosemary Clooney |
| 67 | Santa Baby | Marilyn Monroe |
| 68 | Baby, It's Cold Outside | Michael Buble/Idina Menzel |
| 69 | Hark! The Herald Angels Sing | Nat King Cole |
| 70 | Winter Wonderland | Dean Martin |
| 71 | The 12 Days of Christmas | Straight No Chaser |
| 72 | I Love the Winter Weather | Tony Bennett |
| 73 | The Christmas Waltz | Nancy Wilson |
| 74 | White Christmas | Deana Martin & Andy Williams |
| 75 | Elf's Lament | Barenaked Ladies/Michael Buble |
| 76 | The First Noel | Nat King Cole |
| 77 | Happy Holiday/The Holiday Season | Andy Williams |
| 78 | This Christmas | Harry Connick Jr. |
| 79 | What Are You Doing New Year's Eve | Steve & Eydie |
| 80 | When My Heart Finds Christmas | Harry Connick Jr. |
| 81 | I've Got My Love to Keep Me Warm | Ella Fitzgerald |
| 82 | Mary's Boy Child | Harry Belafonte |
| 83 | It's Christmas Time All Over the World | Sammy Davis Jr. |
| 84 | White Christmas | Michael Buble |
| 85 | Mistletoe and Holly | Frank Sinatra |
| 86 | Little Jack Frost Get Lost | Seth MacFarlane & Norah Jones |
| 87 | O Tannebaum | Rick Braun |
| 88 | Little Drummer Boy | Joseph Leo Bwarie |
| 89 | All I Want for Christmas (Is My 2 Front Teeth) | Nat King Cole |
| 90 | Christmas in San Francisco | Russ Lorenson |
| 91 | Let It Snow! | James Darren |
| 92 | I'll Be Home for Christmas | Tom Wopat |
| 93 | Holiday For Two | Jonny Blu |
| 94 | Have Yourself a Merry Little Christmas | Ella Fitzgerald |
| 95 | Caroling Caroling | Natalie Cole |
| 96 | Johnny, It's Cold Outside | Tom Wopat & John Schneider |
| 97 | The Christmas Song | Mel Torme |
| 98 | O Holy Night | Celine Dion |
| 99 | The First Noel | Ella Fitzgerald |
| 100 | This Christmas | Jane Monheit |