twloopi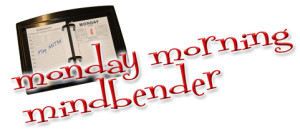 Consider this our weekly "public service" to help get your brain in gear for a new work week.  Tune in around 8:30 AM each Monday to hear the question of the day. Come back here each week to enter your answer for the Mindbender.  We'll select a winner from all correct entries emailed by 6:00 PM Pacific time on Monday's to win a special prize. 
This Week's MindBender:
Question:
?
Answer:
?
COMPLETE THE FORM BELOW TO ENTER. A winner will be selected from all correct answers received by 6:00 PM PT today to win a fabulous prize. Good Luck!!
Last Week's Mind Bender:
Question:
What force and strength cannot get through, I with a gentle touch can do. Many in the street would stand, were I not a friend at hand. What am I?
Answer:
a Key
Congratulations to Amy Thompson of Newmarket, NH. Amy was selected from all correct answers received to win a prize. Listen for a new MindBender again Monday September 14th around 8:30 AM PT. Good Luck!!
NOTE:  Answers to MMM can be indeed fact, OR of widely accepted Urban Folklore.  Hey, we don't have a research department, so we do the best we can.
To Enter complete the form below: